Short Term Summer - Winter Programs
The Summer Program and the Winter Session are intensive liberal arts programs that allow students to live, study, and travel for three to five weeks in Central Europe.

Students participate in lectures, discussions, and cultural events that explore the rich history and culture of Central Europe and the dramatic changes that NATO and European Union membership have brought to the region.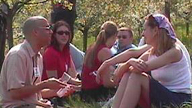 The Summer Program is offered twice during the summer (early-June and early-July), and the Winter Session is offered every year beginning in the first week of January.
The programs are based at the Institute's home in Prague, the breathtaking capital of the Czech Republic Besides living and studying in Prague, students spend time visiting other cities in the region that typify the spirit of Central Europe, such as Vienna and Krakow. Students also take a number of day trips to some of the Czech Republic's most beautiful cities and towns, such as Cesky Krumlov, Kutna Hora, and Karlovy Vary.
These programs also allow students to pursue their own academic interests while taking the main course of the program - Religion, Culture, and Politics of Central Europe. Program participants are encouraged to supply the Institute with an essay or profile so that we may offer them the chance to meet individually with professors and artists whose areas of expertise coincide with that of the student.
While in Prague, students stay in completely furnished apartments in one of Prague's most charming and safest neighborhoods – Prague 6, which is 10 - 15 minutes, using public transportation, from the Institute's unique home, the Czech National Gallery Museum of Modern Art, and 10 minutes from the historic city center.
Click here for a detailed model program schedule.
Academic Program Requirements
Students take three credits during the three to five-week program. There exists a possibility for extra credits to be taken. If this is desired, write to us and a tutorial can be implemented with the agreement of the student's home institution.
The program's academic focus is built around one three-credit course entitled Religion, Culture, and Politics of Central Europe.
In addition to their classroom lectures and discussions, students can choose to participate in one of two focus groups. One is usually devoted to literature and culture, the other to politics and economics.
The two focus groups are composed of a series of talks given outside of the classroom by guest speakers.
Students attend regional cultural events and take one-day and weekend study trips to different cities throughout Central Europe, including Krakow and Vienna.